5S digital audits app Smart 5S now available in English
7 May 2020
ACMP's Lean digitalization brand, Smart Lean Solutions, has just released a new English version of Smart 5S, the 5S periodic audits management application.
This web and mobile app allows organizations a comprehensive management of the 5S audit process, including the creation of checklists, the verification of 5S standards, and the monitorization of corrective actions. The app is also available in English from May 2020. The user's profile settings determine whether the Smart 5S content appears in English or in Spanish.
The audit process more agile, effective and efficient. 
Checklists: prepare, edit and update checklists by areas as you need with autonomy
Digital audits: verify 5S standards compliance of any area via mobile application, both online and offline
Action plans: plan, control and monitor plans, setting deadlines and people in charge
Statistics: automatically generates reports and graphs on the results of the audits, the evolution of the indicators and the Pareto of causes, for a faster detection of improvement opportunities
Add images to document standards and visualizy anomalous situations with ease
Traceability: access information on previous audits results. Evaluate your company's 5S program robustness.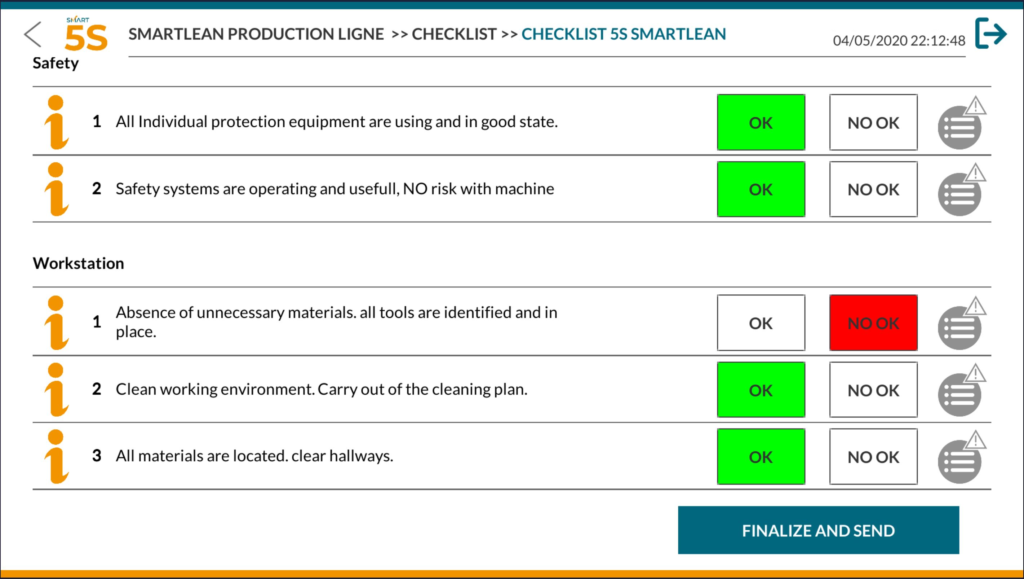 This Smart Lean Solutions' app stands up for its simplicity, the visual management cues added and its usability. It considerably simplifies the employees's daily tasks, cutting by 50% the audit times.
Besides, Smart 5S enhances communications among team members and provides up-tp-date and accurate data, all of which encourages staff's involvement in sustaining the 5S routines.
Get your Smart 5S free trial for 30 days and try all it can do for your company.
If you need further information, visits our website www.smartleansolution.com. You can contact us on info@smartleansolutions.com or use this form.